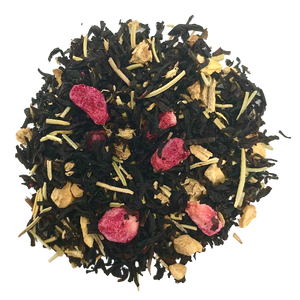 Introducing Persephone's Descent, a luxurious loose leaf tea blend that will transport you to a magical world of flavors and aromas. This exquisite blend features a rich black tea base, infused with the tart and tangy notes of hibiscus and pomegranate, the earthy essence of rosemary, and the warming spice of ginger.
The inspiration behind this blend is the Greek myth of Persephone, who was the goddess of the Underworld and the daughter of Demeter, the Goddess of agriculture. Persephone was kidnapped into Hades after biting into a pomegranate, sealing her fate as the new Goddess of the Underworld
With each sip of Persephone's Descent, you'll experience a harmonious balance of flavors and a delightful aroma that will awaken your senses. The black tea provides a robust base that complements the fruity and herbal notes of the hibiscus, pomegranate, rosemary, and ginger. This tea is perfect for any time of day, and its full-bodied flavor makes it an excellent choice for pairing with sweet or savory treats.
Indulge in the mystical allure of Persephone's Descent and let it transport you to the depths of the Underworld with every cup.
INGREDIENTS: Smoky black tea, hibiscus, ginger, rosemary, pomegranate arils, natural pomegranate flavor, natural cherry flavor.
STEEPING INSTRUCTIONS: Use 1-2 tsp of tea to 1 cup boiling water, 200°-212°. Let steep for 3-5 minutes.